9 July 2022
Lanesboro, Co. Longford.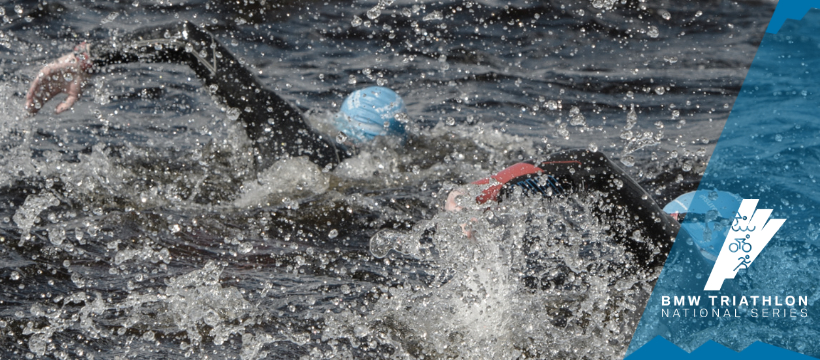 Registration
Registration for the 2022 Two Provinces Triathlon is now open.
Prices
| | |
| --- | --- |
| Individual | €55 |
| Relay | €75 |
| Youth Series Age 16-17 | €35 |

Enter Race Here

Two Provinces Triathlon take safety seriously. We will have several boats and crews on hand from our local sub-aqua club along with plethora of experienced kayakers to guide your way or stay by your side for support. Waves are timed to minimise bike traffic on the cycle route which is a fast out and back course along a straight road ideally set up for time trials. You will be free to ride your own race. The out-and-back run is largely flat with a small trail section to begin with.
We have hassle free parking for all competitors close to registration. Refreshments will include hot meal, fruit, water, yogurt, ice-cream and some other treats for all competitors. This is a popular race, fully supported by Waterways Ireland and local community. You will certainly get a buzz created by the spectators, our DJs and lead MC.
Two Provinces Triathlon – Race Day Information
NOTE: All details for the 2022 event are provisional and subject to change.
1. Parking
Please see map below of competitor parking for the Two Provinces Triathlon, which will be located on the Longford Road, next to Lanesborough National School. We ask all competitors to park here. It is located a short walk from registration via the pedestrian access.
Directions to Parking:
Approaching Lanesboro from Longford direction, turn right just before the town centre as directed.
Coming from Roscommon direction, turn left at junction in town centre and then left again.
If approaching from Ballymahon / Mullingar direction, turn right at junction in town centre and then left.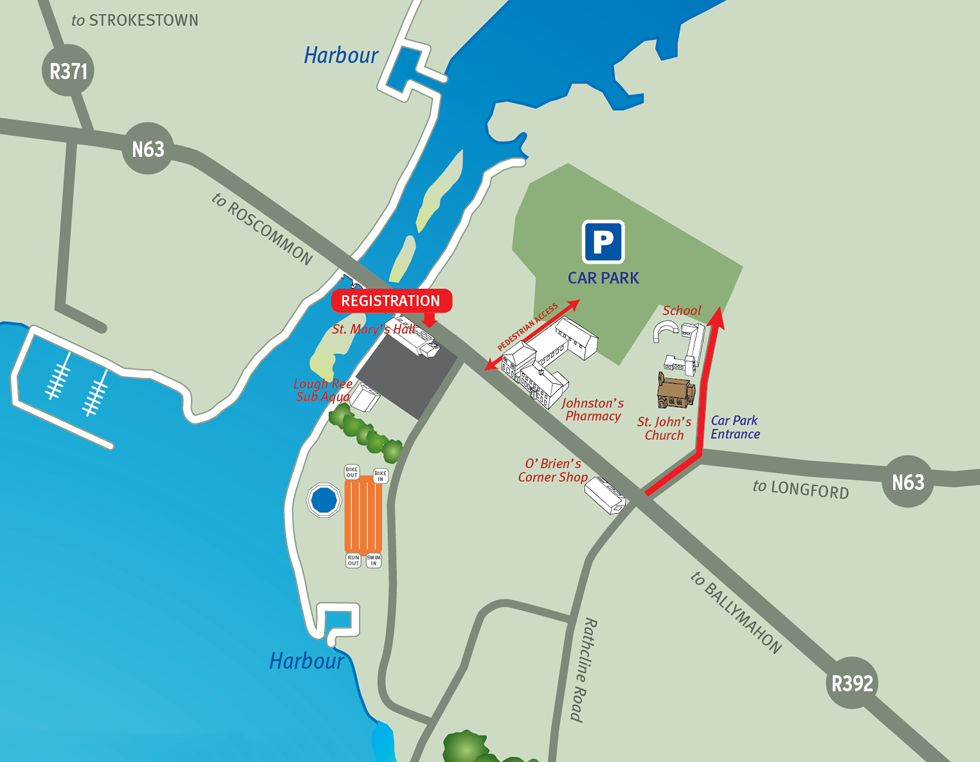 2. Timetable
As we have a road closure order in place we are under great pressure from the Gardaí to ensure the race runs to the time schedule which is planned. To avoid disappointment please be on time!
Wave Lists
Wave lists will be available here closer to the event.


Friday (8 July)
| | |
| --- | --- |
| 18:15-20:30 | Race sign on will take place in St Mary's Hall located on Main Street, next to the bridge. |
Saturday (9 July)
| | |
| --- | --- |
| 07:30-10:00 | Limited registration only. Doors will close at 10am sharp |
| 07:30-10:15 | Transition opened. Transition will close at 10:15am sharp. Transition is located beside Lough Ree on the Longford side of the river. |
| 10:30-10-45 | Race briefing |
| NOTE ON WAVES: | Aqua-Bike competitors will be spread amongst the age-category waves. Wave start times and categories are indicative – be sure to check your wave on registration. Start times may vary dependent on conditions on the day. |
| 11:00 | Wave 1 start |
| 11:10 | Wave 2 start |
| 11:25 | Wave 3 start |
| 11:40 | Wave 4 start |
| 11:55 | Wave 5 start |
| 15:00 | Prize giving |
3. Road Closures
For health and safety during the Two Provinces Sprint Triathlon & Kidathon on Saturday 9 July, the following road closures are going to be in place:
The R371 from Ballyleague to Scramoge on the 9 July from 10.45-14:00
The Rathcline Road from entrance to event car park to Harolds Cross on the 9 July from 08:55-10:00 and from 11:30-13:00
4. Registration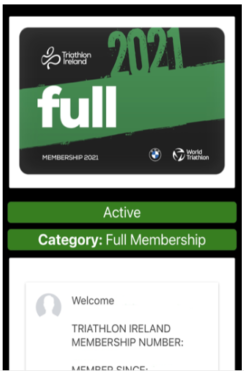 You must have your 2022 Triathlon Ireland virtual membership card or One Day License in order to race. Only one member of a relay team is required to have a TI or One Day License. Your 2022 TI virtual membership card must be accompanied by photo id. Details about he virtual membership cards can be found on Triathlon Ireland's website here.
The deadline to buy a one-day licence (ODL) from the TI website is midnight on Thursday 7 July. You must bring proof of purchase of ODL to registration. One-day licences will not be available for purchase at registration.
You will not race without presenting your TI card or ODL proof of purchase.
If you hold an International Racing Licence your licence may be used at Triathlon Ireland sanctioning events, providing the organisation you are a valid member of is affiliated with the ITU. If you do not have your physical membership card at registration, along with a valid form of identification you will not be allowed to race as you will not be covered by insurance.
Registration will be in St Mary's Hall, which is located on Main Street beside the bridge, on Friday from 18:15-20:30 and Saturday from 07:30-10:00.
Absent Parent Consent (for under 18s)
NOTE: Form 11a (absent parental consent) should be completed by the Parent/Guardian if they are giving responsibility for their child to another adult for the duration of the race. You can download a copy of Form 11a here.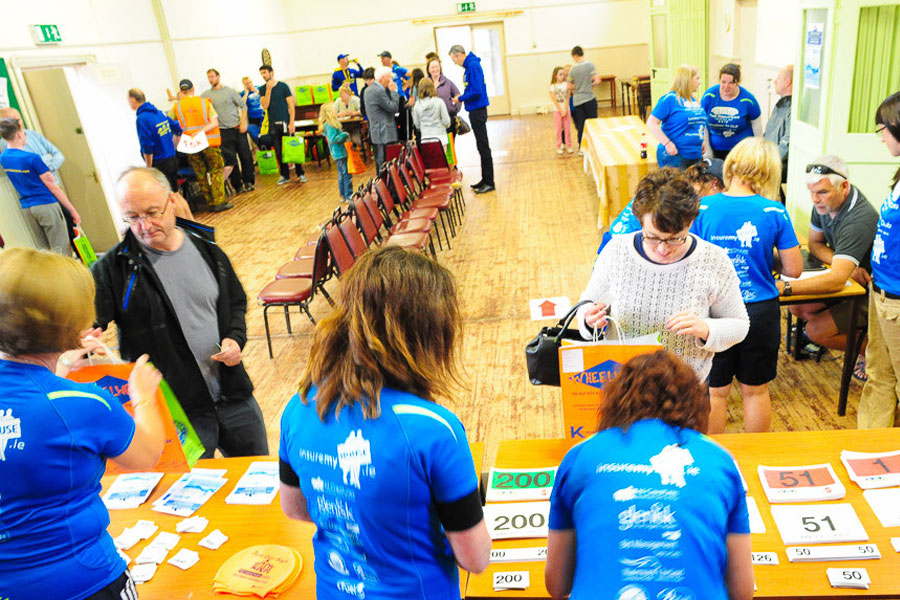 5. Transition Zone
The transition zone is located beside the car park and harbour on the Lanesboro side of the river. Transition will open on Saturday from 7:30-10:15. Please note that no bags may be left in transition during the race.
On entering transition you will need to:
Demonstrate that your bike is safe and roadworthy: wheels properly tightened, adequate tyre pressure, functioning brakes, bar stops/ends on handlebars, etc.
Have specially provided numbered bicycle sticker properly affixed to the seat post of your bike.
Have your helmet on and properly adjusted and fastened
Security
We take bike security seriously and your bike cannot be taken out of transition without your bib number being displayed and that number being compared to the sticker affixed to your bike. Bikes cannot be removed from transition before the last runner is out. No exceptions.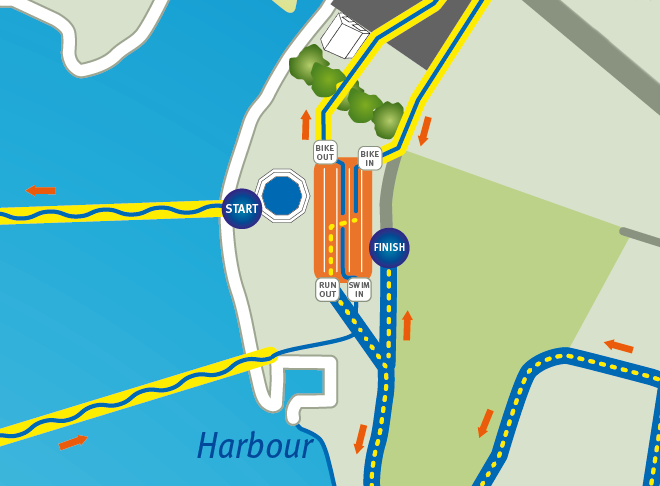 6. Race Briefing
The race briefing will take place beside transition at 10:30. Attendance is compulsory. The race will be run according to current ITU Competition Rules. For more information see here.
Timing chips must be worn on lower left leg by competitors while on the course. This includes relay and this policy will be strictly enforced.
7. Swim Course
The swim will take place in Lough Ree. Your own wetsuit and also the swim caps provided at registration must be worn. Competitors from staggered waves will be led down to the water at 10:45, 11:00, and 11:15 to provide plenty of time for warm-up in the water before the first wave begins at 11:00. Competitors will be counted into the water according to start wave. The swim will have a waist- to chest-high, static start, and will not begin until all competitors are in the water. There will be a number of boats and kayakers, as well as life guards on duty to assist swimmers. If you are a weak swimmer it is advisable to stay to the back, as you save energy and time trying to avoid the stronger swimmers. There is a swim cut-off time of 30 minutes per wave.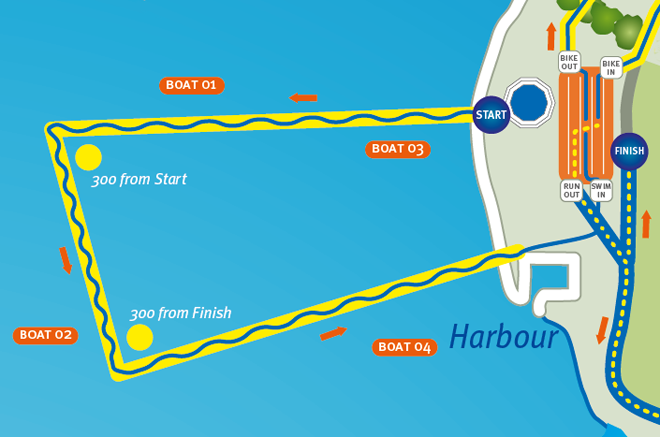 8. Bike Course
The bike takes place on roads mostly closed to traffic, and normal rules of the road apply. Drafting is not allowed. Draft busters (TI motor cycle officials) along with additional TI race referees will be on-course to ensure a safe and legal race.
Caution must be taken at several points along the bike course. Competitors must adhere to any instruction provided by race marshals, referees or Gardaí. Failure to adhere to safety instructions may result in disqualification. Road surfaces are generally good, however part of the road out of the village car park is rough and care is needed.
Please respect our neighbours and refrain from littering on the course. Our Tidy Towns committee have devoted a lot of time to make the town look neat and tidy for your enjoyment and I would request that all empty gel sachets are not discarded while out on the course in recognition of their efforts.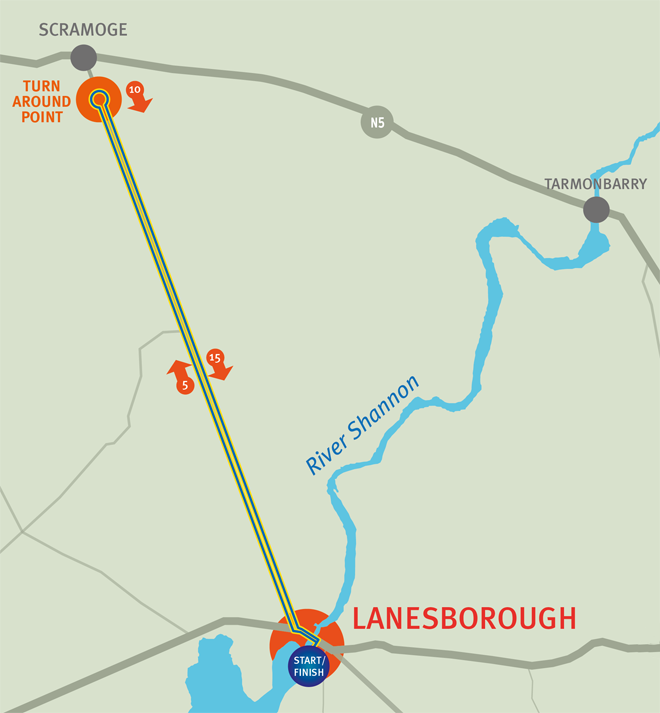 9. Run Course
The run course starts out via the quarry and then onto Rathcline Road. The Rathcline Road section is an out and back course returning through the quarry and out to Rathcline road via the trail through the woods and returning via a private road and then into the car park and onto the finish chute. Water stations will be located at 0.5km at the quarry exit and 2km/3km along the route. The finish line is located beside the transition area. Again please respect our neighbours and refrain from littering on the course, for example, please place used plastic drinking cups in the bins provided.

10. Penalty Box
A penalty box will be in operation at this event. If at any stage while on the bike course you are shown a "yellow card," this is a two minute penalty. It is not a warning card. You must serve the two minute infringement in the penalty box. The penalty box will be located at the entrance to the transition zone. It is your responsibility to serve the penalty here and at no other place. Failure to do so for ANY reason will result in an automatic disqualification from the event with no appeal. At all times there will be a Technical Official in the penalty box who will observe the penalties.
11. Marshals
As this is a club race, all marshals are volunteers and are giving up their time to help run a safe race for all involved. It is therefore important to treat all Marshals with respect, if you meet one – smile and say thanks. To appreciate the scale of local involvement from various clubs and societies, we will have a minimum of 125 marshals involved on the day of the race.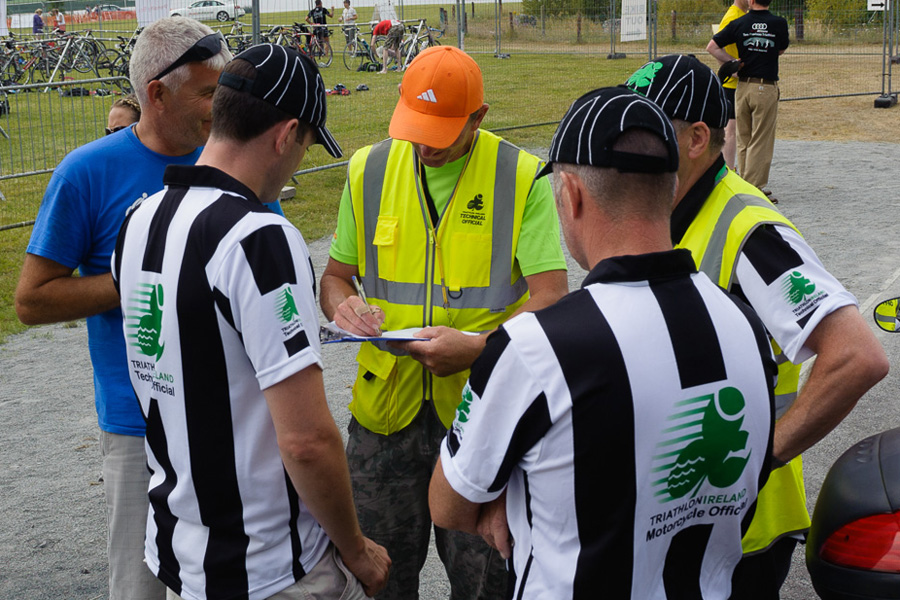 12. Anti-Doping Policy
Lanesboro Triathlon Clun is committed to providing a drug-free environment at our race. As such, we support and follow the Irish Sports Council's protocols on anti-doping. Anti-doping testing is part of the ISC's National Anti-Doping Programme that acts to protect Ireland's sporting integrity against the threat of doping. For more information, see http://www.irishsportscouncil.ie/Anti-Doping/About_Us/National_Anti-Doping_Programme/.
We have prepared facilities for anti-doping testing in line with Irish Sports Council requirements.
13. Recovery
A recovery tent will be located near the finish line where competitors will be provided with drinks and a meal. A physical therapy tent will also be available free of charge for all competitors.
Tea/coffee and other snacks will be available throughout the day for purchase at a mobile snack van located near transition and in all the local shops a couple of minutes' walk nearby.
14. Prize Giving
All prizes will be awarded immediately after the race between 13:30-14:00.
15. Race Day Prizes
This year, all finishers who conquer the Two Provinces will be awarded a Viking Warrior Medal. Lough Ree is steeped in history with many monasteries located on the islands being raided by Vikings resulting in two Irish Kings, Malachy 2nd, King of Meath and Cathal O'Connor, King of Connaught who built a causeway at Lanesborough as a strategy to link their forces and defeat the Vikings…
Trophies for overall Male, Female 1st, 2nd, 3rd. Cash prize for overall Male, Female 1st, 2nd, 3rd. Trophies for Age group Male, Female 1st, 2nd, 3rd (Overall winners excluded from age group prizes). Spot prizes: except for overall winners.
Last, but certainly not least…
We would like to take this opportunity to thank our main race sponsors, who are helping, along with others, to make this event possible. A very big "Thank You!" to:
Cooney's Homevalue
API Mechanical
Fusion Electrical
Bord na Mona
Leavys Monumental Works
C.B Gillen Chartered Account
Eamonn Farrell Carpentry and Construction
Johnston Pharmacy
Casserly`s Spar
Longford Remedial & Sports Injury Clinic
Critical Healthcare
BallyGowan
XLNTEE – Professional Hairdressing Studio
The Yacht Bar
Lanesbrew
APOS
Lough Ree Distillery
Clarkes Bar
Swan Tavern
Keane's SuperValu
Ping's Oriental Take Away
Shannon Grill
E BARBER
Hanly Motors
Dolan Foods
Wooden Spoon
Wheelworx
Waterways Ireland
Rustylemon Graphic Design
We extend our gratitude also for all the support we have received from the Roscommon and Longford County Councils, Lough Ree Sub Aqua Club, Civil Defence, An Garda, the towns of Lanesboro and Ballyleague and the local businesses for accommodating this year's event and to all the volunteers from various local clubs and societies who have given their time, facilities and equipment in order to make this event successful.